Singer/Songwriter
Music has always been in my Life.
I had influences from my father who sang and loved Swedish "Schnapps-songs" and the famous songwriters/artists Taube 20th century and Bellman 18th century.
But also from my Mother and her mother as music was played and shared in their homes.
Growing up in the 70's there was so much great music released. I was privileged and able to buy vinyl records.
The Beatles, Cat Stevens and Neil Young to name a few of my teachers and inspiration.
I've been writing a lot of songs through the years. I've been performing at private parties from the age of 11. With my band Handin' Heart I performed a number of public appearances between the years 2000-2007.
I have written new songs 2013-2015 that have a new and more hopeful tone. Much due to my new found love in Magdalena, who has also contributed in the shaping of these new creations.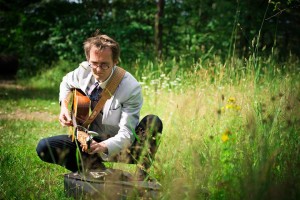 I am now available on Spotify, iTunes, Apple Music, Google Play, Amazon, Rhapsody, Deezer and Tidal!